In my freebie download 'My IG Growth Cheat Sheet' I talk about how critical it is to optimize your Instagram bio. Because your bio is such an important and easy way to convert account visitors into followers, fans, and even email subscribers, or customers.
Instagram Bio Strategy
The majority of users do not use their Instagram bio strategically, and miss out on this free billboard space that tells us WHO you are, WHAT you offer, and WHY we should follow you. Or it doesn't tell us that at all, and we click away. Or it tells us too much, and we don't get your vibe.
Your Instagram bio is a critical part of your brand masthead, i.e. the top of your feed. And there are some simple hacks to improve it.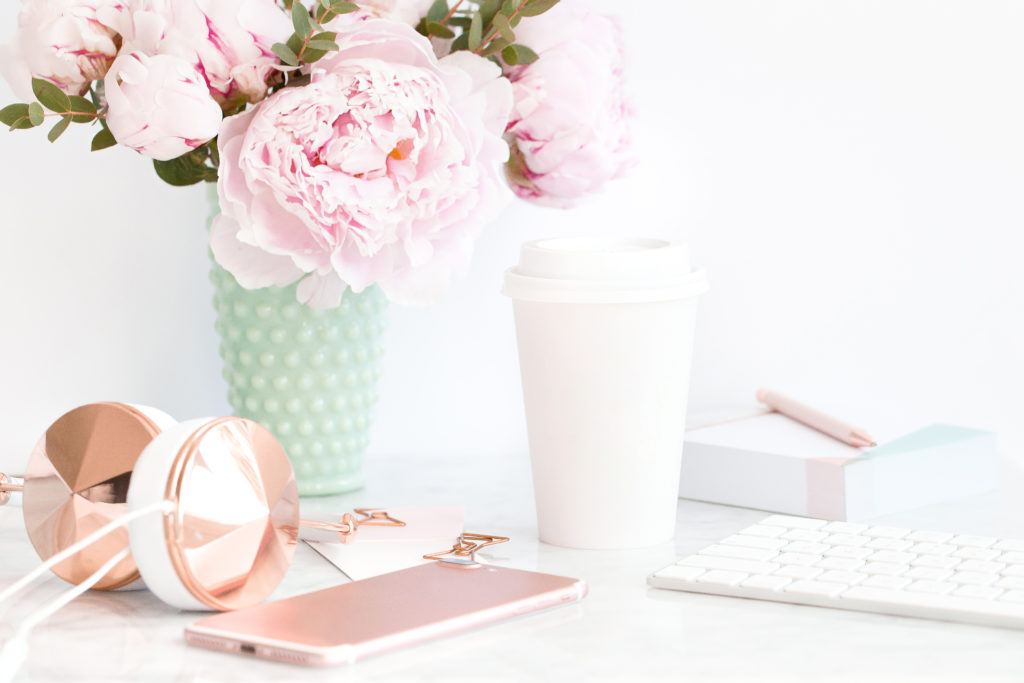 So I'm going to break it down for you, section by section:
Profile Pic
Profile pic – should you use your logo, or a personal pic, well that is the question. And it depends on whether you're a personal brand, or if you're selling goods or services.
As a personal brand, I prefer to create a more personal connection on Insta, and use a picture of my face, so you feel like you're talking to ME, which you are, not just a pretty logo. Sometimes I use an image of me and my kids, because I'm all about empowering moms, and sharing my girl mom life.
If you want to use your logo, but you're not a shop or service, why not create Highlights with your logo? I've done just that. I use the artwork that constitutes the background of my logo for my Highlights. Check it out here.
Name Field
Your name field should contain your first name, unless your brand is your full name, and it should contain your niche keywords describing who and what you are, and your location. Why? Because this way, you can be found on the gram. Your name field is part of the powerful search engine inside Instagram, that allows users and brands to find accounts they are searching for.
Try it out for yourself: Go into Insta search, type in what your are (for example 'mom blogger' and 'Ohio') and see who comes up in the 'accounts' tab! That's how brands and accounts looking for mom bloggers in Ohio are finding them! And you're missing out mama.
Selecting niche keywords in your name field forces you to focus and figure out your identity and how you want to present yourself, because the field is limited to 30 characters!
Three lines of Copy
Ok girlfriend, here is where I'm going to state the obvious, but guess what if you use more than 3 lines of copy, your bio is going to get cut off, and will show that dreaded word 'More' and those dots… that most people don't bother clicking on!
We've all seen bios that are too long, and by too long, I don't mean just too much copy, I mean sometimes they're just too stacked on the left with single word lines.
So, condense what you offer and to whom, and elaborate from the name field as to who you are in this section. Try to keep it as short and sweet as possible. You want folks who are only skimming your bio to process what you're about in a split second.
If the lines are too long, and the copy is too long, it's hard to process visually.
CTA (Call to Action)
Now, for the most important line in your bio, the one that precedes your bio link, you should have a CTA, a call to action, as we would say in marketing speak. Give us a good enticing reason to click on your link. Otherwise why would we? Linking to your shop? Spell out for us what you're linking to, if there's a sale, or something special! Or if you're linking to your blog, what's the post, why is it interesting?
Instagram Bio Link
You should either be linking to your shop, if you're selling something on etsy for example, or your blog, if you're trying to drive traffic to your blog, or a landing page, if you're trying to get followers to sign up for your emails.
I am not a fan of Linktree, for several reasons, which require their own blog post, but suffice it to say, the more options you have to click on, the less likely someone is going to click on one of them, and the more traffic you're driving to Linktree, not your own site! I did use Linktree for a while in the beginning and it's a great tool for some, but it's not what I recommend if you're trying to build your personal brand or business.
If I only have one link, it is my landing page link where I offer my freebie download in exchange for signing up for my emails. Otherwise, I use the link to my social page on this website, which highlights my top three CTA's (Calls to Action). This allows me to serve my followers by offering tips and strategies straight into their inbox, and not just relying on Insta to reach those I've worked so hard to acquire.
Remember that Insta is not your platform, and if the app crashes, you won't be able to reach your people, so having a way for them to connect to YOU outside of Insta is key!
Highlights
Your Highlights should complement your Instagram bio. So if you're offering financial advice to single moms, or selling essential oils, or inspiring us to live the homestead life, these spaces are a way we can connect with you further.
You could also think of it as offering some of your 'content buckets' your categories such as wellness tips or whatever it is you create on your feed!
If you want to visually see examples of bio audits I do, when I analyze and make suggestions for what to change in your bio, check my Highlights on my Insta. Because obviously Insta marketing is one of my content buckets, and offering tangible examples of how to apply my tips and strategies is how I serve and empower my mom tribe.
And if you haven't grabbed your freebie download I was referring to with My IG Growth Cheat Sheet- watchu waiting for girl?
Looking for tips on Instagram Stories, check out How to Glow and look confident in Story Videos!