Juice Beauty Green Apple Peel Sensitive Review
What I love about Juice Beauty's products is that unlike other brands, who use a water base, Juice Beauty created an antioxidant rich organic juice base.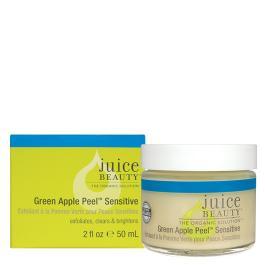 Plus they are a truly sustainable brand- they use certified organic ingredients without pesticides, parabens, propylene or butylene glycols, petroleum, sulphates, PEGs, TEA, DEA, phthalates, GMO, silicones, artificial dyes or fragrances. They use recycled packaging and soy ink, and manufacture over 80% of their products with solar power!
I love their SPF tinted moisturizer, so I was excited to try their high end premium age defy line, in particular their fancy and tech sounding Stem Cellular Repair products, as well as their famous Green Apple Peel. I reviewed the Stem Cellular Repair Moisturizer and the Stem Cellular Repair Eye Treatment. I decided to try the Green Apple Peel Sensitive
because it 'exfoliates, clears & brightens' and is good for combo skin, and reducing breakouts and sun damage.
This is what the package says:
This patented organic fruit acid complex with raw cane sugar exfoliates to reduce breakouts, discolorations, and fine lines. Heals while hydrating with rejuvenating algae, vitamins, and antioxidants for a smooth, glowing complexion. 
Apply a generous layer to cleansed face, neck and decollete up to twice weekly. Leave on for 10 minutes, then rinse well.
I have combo skin, and get small breakouts that get worse once a month, which drives me nuts, because my skin is so thin and translucent, that you can see discoloration and redness from a mile away, and my skin scars easily, so it takes a long time for blemishes to disappear. I've never used a peel at home before, only during professional facials, so I was a bit nervous that this product would be too strong for me, or burn my skin, or worsen my broken capillaries, but I really LOVE it! I'm a peel convert! This is a must have if you can't budget regular facials and have uneven skin tone, discolorations, or breakouts.
I use it twice a week, sometimes three times, and my skin is exfoliated, dry dullness is gone, and my skintone looks more even. It has become a skincare essential for me! It tingles slightly once you apply it, but it dries quickly and invisibly, and you can forget about it for a bit, and then rinse it off. It has definitely helped clear up my skin faster, reduce breakouts, and heal the skin.
mini cons: I don't have sensitive skin, but I still chose the sensitive peel. However I gifted this product to my friend, and she had a much stronger reaction to it, and her face burned from the fruit acids. But her skin is very sensitive and she cannot even use eye makeup remover!
overall rating: 4.5 out of 5
* Juice Beauty kindly sent me this product to try, but rest assured that I only review products I like and I do not get paid for reviews. I write reviews to provide info and tips to other women like myself who love natural and organic beauty products *