Our kids did survival swim training at Swimfinity
I'm offering one local NY/CT mom a chance to win ONE MONTH of private one-on-one Swimfinity swim training for your child! To enter follow me on Instagram @livlunamasha, find my giveaway post which goes live Friday August 16, and enter to win.
Swim Safety Facts
Did you know that young children can drown silently in as little as 60 SECONDS without struggling, even in a baby pool? I know how upsetting this is to read. As a mom of two little girls, I can tell you that since the day they were born, I have had zero chill whenever they were anywhere near water (even though my husband is a former Coast Guard rescue swimmer and instructor.)
I knew that drowning is responsible for more deaths among children 1-5 than any other cause except birth defects, that annually there are over 3,500 fatal unintentional drownings in the US, and that nonfatal drowning injuries can cause severe brain damage that may result in a permanent vegetative state.
What I didn't realize is that in nine out of 10 drownings, parents or caregivers had been supervising the child at the time, and that some of these drownings occurred to children who had taken 'swim lessons', and yet hadn't learned water survival techniques.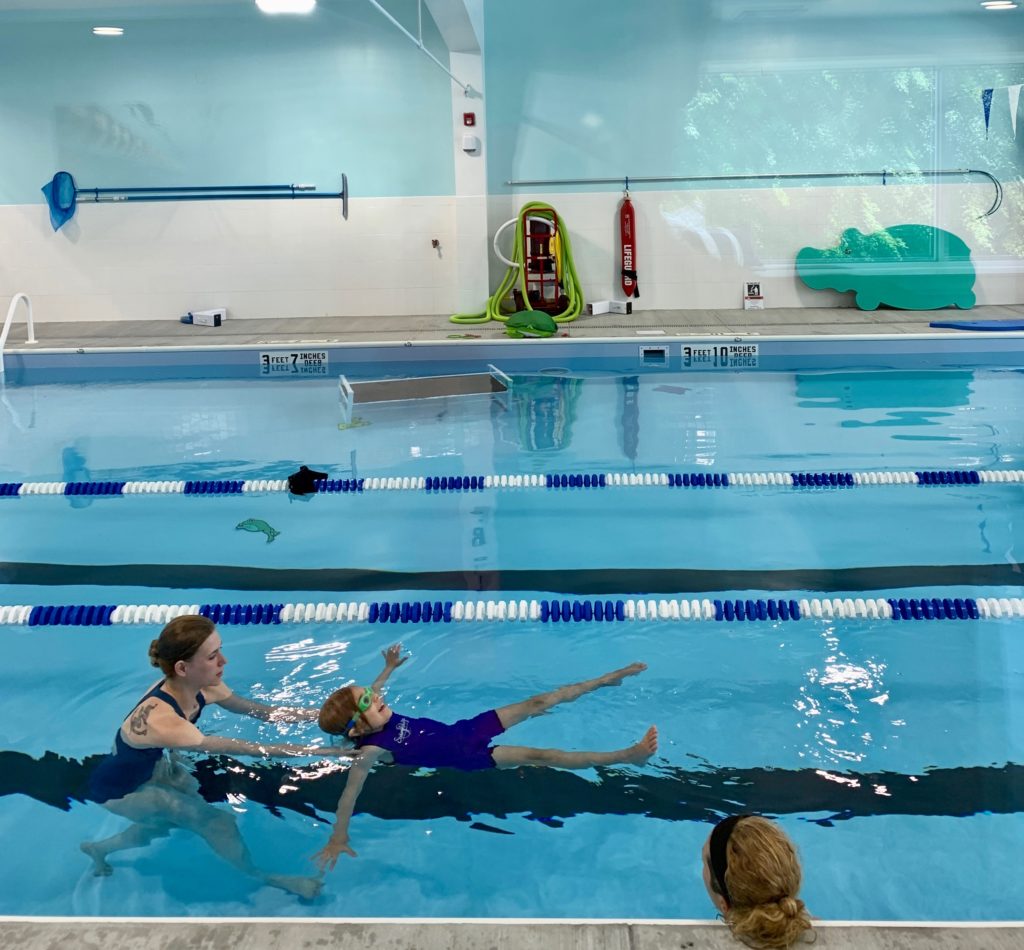 Survival swim training
When I heard about swim survival training, I was curious but skeptical. The girls aren't babies anymore, isn't it going to be traumatic for them, and shouldn't we just sign them up for regular lessons? But after doing a lot of research on how many years you can be taking regular swim lessons and still not be able to survive if you fall in the water, I reached out to Ali Sisca, the inspiring mom of four who runs Swimfinity Swimming Academy in Westchester County, in rural North Salem, NY.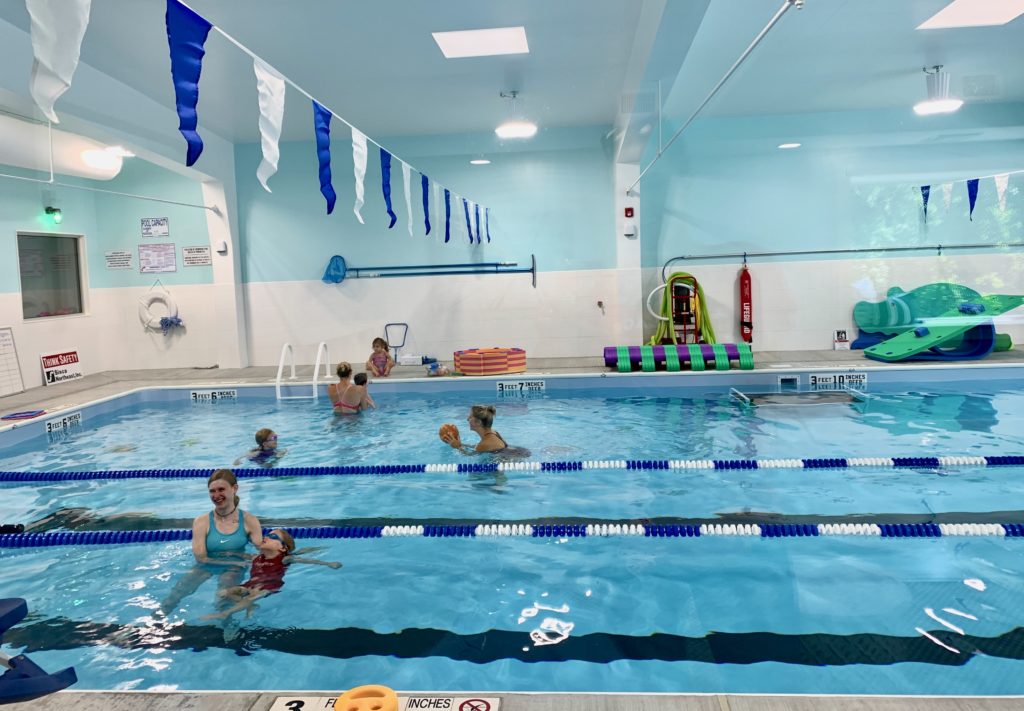 Sofia, our 5 year old, was barely treading water with a swim vest, and Isabella, our 3 year old, was still using a floatie. They both hated getting water in their face and washing their hair was tantrum city.
Within 2 days of only 10 minute one-on-one lessons in Ali's new purpose-built facility featuring a state-of-the-art warm saltwater pool, the girls became bananas about swimming underwater. I couldn't believe the transformation. Within two weeks, my 3 yo was able to swim-float-swim and pass the water survival test, and my 5 yo was swimming independently, jumping in the water like a maniac, and learning sidestroke like a competitive swimmer!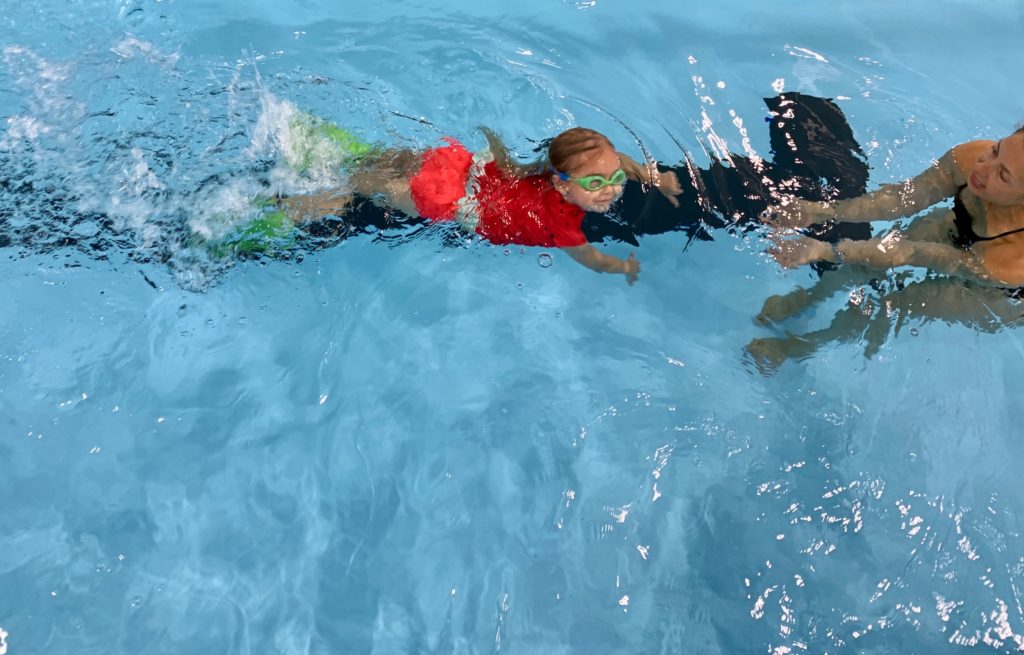 I signed them up for survival swim training, and it is so much more, but survival they can do. They've learned how to survive if they fall into the water fully clothed, and even if they're weighed down by heavy clothing.
Now they've progressed to using fins, learning to dive to the bottom of the pool, and various stroke techniques. Sofia has started to learn freestyle and backstroke and it is blowing my mind because she is having so much fun with it all. In my wildest imagination I could not imagine such a rapid and successful learning curve.
Once the girls complete their swim training, they will continue taking group lessons and hopefully join Swimfinity's pre-competitive swim team!
We've been blown away by our experience these last few weeks. The pool facility is clean and beautifully designed, it doesn't reek of chlorine, and it is kept at a comfortable warm temperature so even babies feel warm. The saltwater feels good on their skin and eyes, and the bathroom is not over-air-conditioned. The staff are kind and dedicated, and the techniques that they use to teach the kids are brilliant. During lessons, the parents can watch through the enormous glass wall in the lobby and viewing area.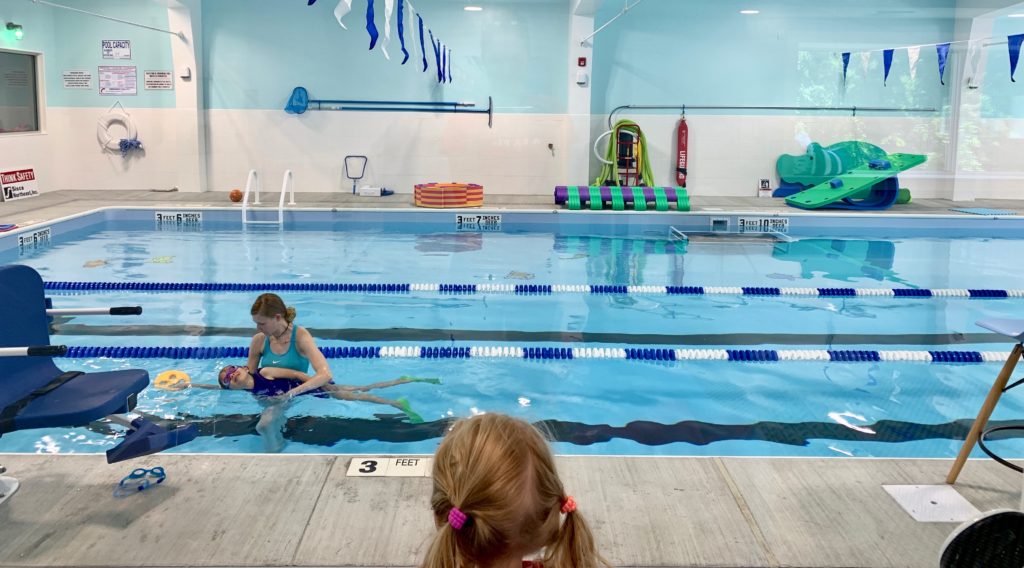 I was worried that my 5 yo, who is very sensitive, would balk at swimming underwater, and there would be tears and drama, but she didn't cry once, and she jumps for joy when it's swim class day! My 3 yo cried the first class, but couldn't be prouder of herself as soon as she got used to the concept and now she can't wipe the smile off her face when she's in the water. They've both transformed into mermaids who love to swim.
I've been so impressed with every aspect of Swimfinity Swimming Academy, and the owner Ali. With her gentle manner and enormous smile she puts children and parents at ease immediately. She also has an incredible team of instructors. The girls primarily worked with Ms Flora, and adore her.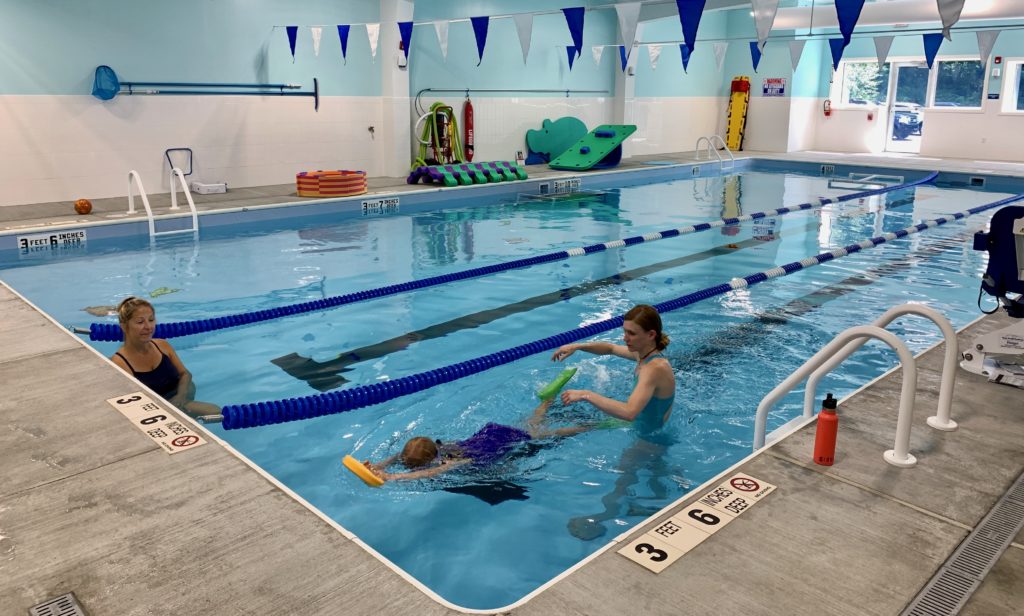 FAQ Interview with Ali Sisca:
1. What makes Swimfinity unique?
Swimfinity teaches children to go from totally helpless in water to independent in water within weeks. Other programs can take years to accomplish what we guarantee to do in less than 2 months. We teach this method in the most gentle way possible while still getting results. Some kids may have a tough few days but they all end up loving the water. Their confidence soars once they realize they can accomplish something they didn't believe they could. We don't only teach young children, we are successful teaching older children as well. Soon we will add adult classes. Once the children are independent in water, they can continue all the way through pre-competitive swim team. We will prepare them with what they will need to join a competitive team. Our goal is to create a program that your child can grow with. We love what we do and we think that resonates with the children.

2. Tell us about your your new facility!

We are excited to finally have our own brand new facility. The pool is saltwater and heated to a comforting 90 degrees. My husband Joe Sisca happens to be a commercial general contractor so he was able to build the whole thing! We hope to open more pools in the surrounding areas so that we can teach more people these life saving and life changing skills.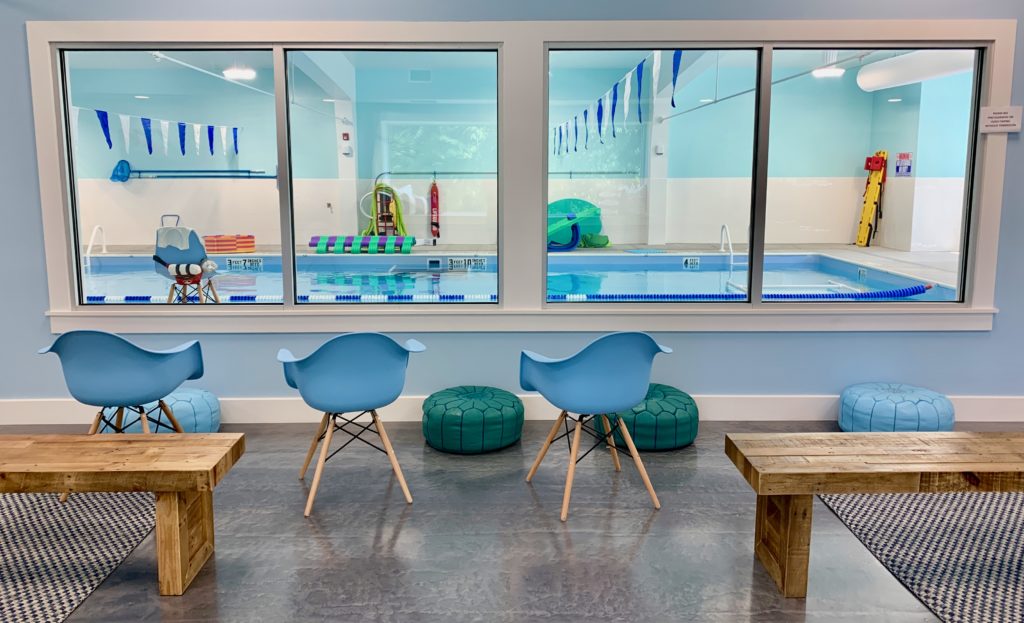 3. What ages do you teach, and what is the ideal age to start?
Children can start as young as 3 months in our mommy-and-me water acclimation course called Born 2 Swim. They can stay in this class or move into survival lessons once they are 6 months. Any time from 6 months to walking is ideal as once kids are walking they are much more likely to encounter bodies of water. Children can drown in as little as a cup of water. They don't realize they just have to move their heads to get air. They freeze. We can start at any age and every child and adult should learn this critical skill. The sooner the safer.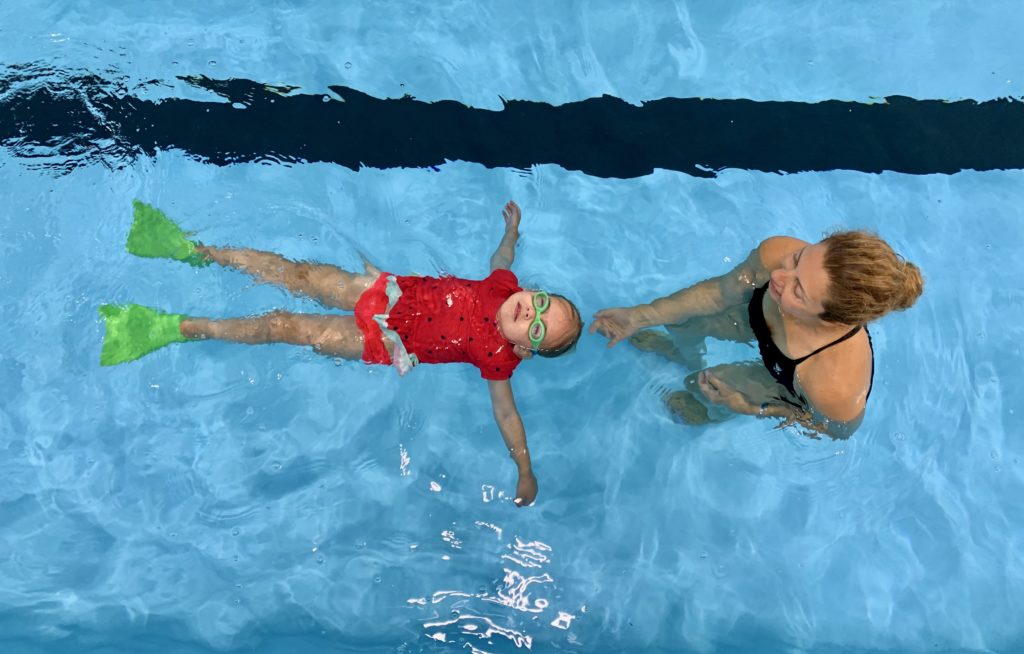 4. What would you say to a parent with a sensitive child nervous about the concept of 'survival swim training'?

Lessons are for every child but they aren't for every parent. Sometimes lessons can be hard to watch. Parents should be committed to the program and have trust in the process before they begin lessons. I can say I don't know of any parent who completed lessons who regretted it. They only sometimes wish they had done it sooner. There are definitely misconceptions and we definitely don't just throw your child into the water! But you will feel more confident and comfortable knowing your child has a fighting chance if ever faced with an aquatic emergency.

5. Can children who already know how to swim benefit from your methodology?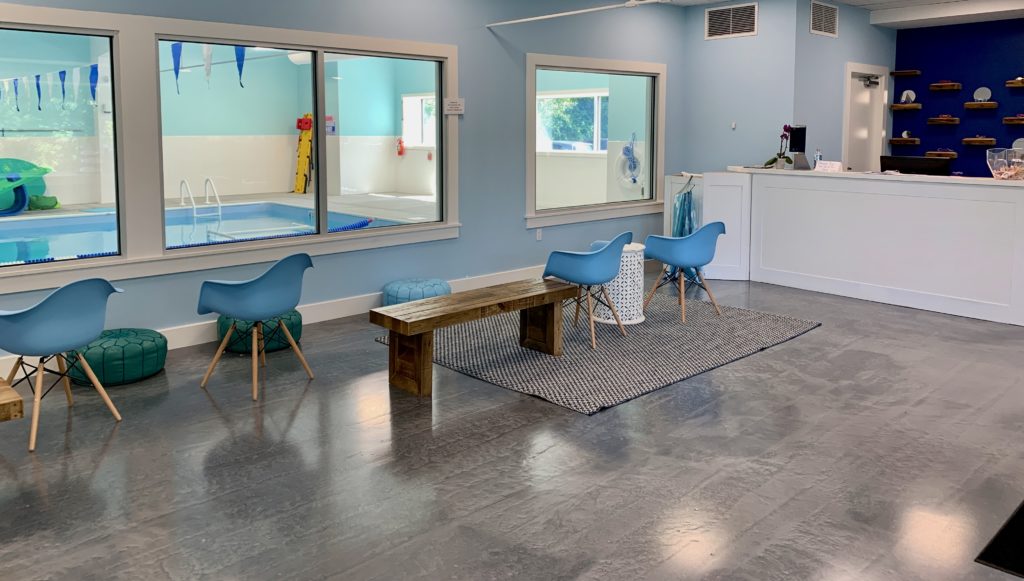 Definitely! We teach children of all ages to swim independently, then to swim strokes and finally work on refining stroke technique. We think every child should have the skills to save themselves in water but there is so much more about swimming that we love to teach!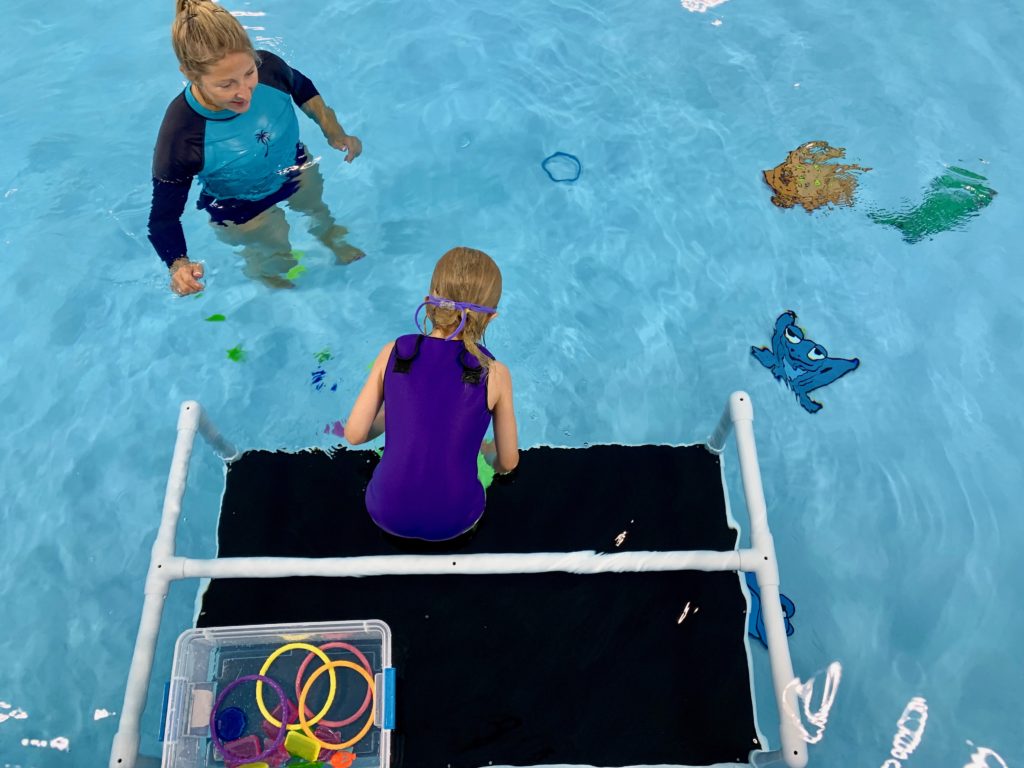 6. How did you become passionate about survival swim training?
I have 4 children that all went through this type of program. I was always very aware of the dangers of children and drowning. My husband and I both love being in and around water. Beach, pool, whatever! I knew it wouldn't be possible to relax in any type of environment where our child and water was present. When we heard about this program we immediately enrolled our oldest child. Each of our other 3 children began as soon as they were old enough. I was fascinated with the process and wanted to share it with others. My husband supported the decision we never looked back!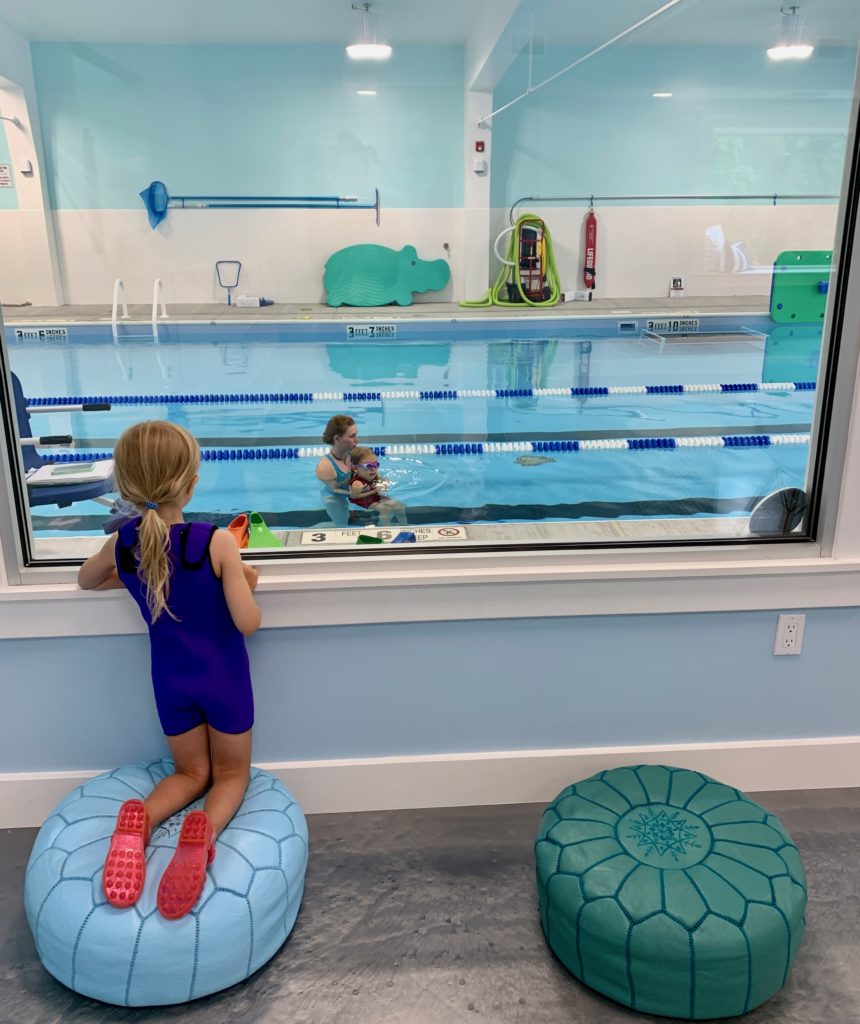 Don't wait mama!
Sign your babies up and breathe a sigh of relief that you'll have one less thing to worry about. Learn more about Swimfinity here.
Curious to learn more about the process? Watch behind the scenes videos of my daughters' swim lessons in my Instagram Stories!